Station Options: Cash Register
The Cash Register section allows you to configure settings and specify options for the cash register set up at the location.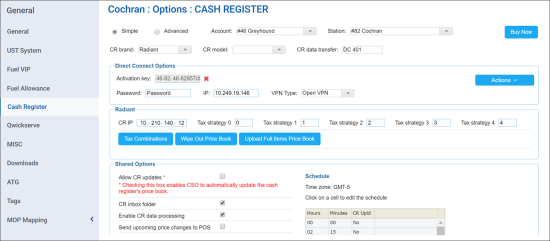 All cash register settings are presented in two views:
Simple view: This view displays basic cash register settings.
Advanced view: This view displays the full list of cash register settings.
To switch between views, at the top left of the Cash Register form, select the Simple or Advanced option.

You can perform the following actions from the cash register form:
Basic actions using the buttons at the top right of the form:
Revert: Use this button to discard the configured settings and get back to the last saved settings.
Save: Use this button to save the configured settings.
Download Cash Register Update Files: Use this button to download the update.zip file containing Price Book updates to be sent to the cash register.
Configure the following settings for the cash register:
To track the changes made to the station on this page, use the Station Log report.
You can edit cash register settings only if you have appropriate permissions. Make sure the Allow users to set up Cash Register permission is granted to the user account in CStoreOffice®. Otherwise, the Cash Register form is available only in the view mode. For details, see Granting Role Permissions to Roles and Users.